I just counted and DrupalCon Pittsburgh was my 35th DrupalCon or Camp over the course of 11 years, starting with Twin Cities Drupal Camp in 2012. I nearly skipped the con this year. However, in the week prior to DrupalCon, friends from across the country began to reach out to ask if I would be at DrupalCon and the "fear of missing out" began to set in. At the same time, my friend and business partner, Rajib Paul, encouraged me to reconsider my decision. At the last minute, I reversed course and made plans to attend DrupalCon with four primary goals in mind. 
As the owner of a small agency (Triplo), there were friends, clients, and collaborators that I wanted to see in person and DrupalCon is a great opportunity to reinforce and strengthen these relationships critical to our business. 
 
To look for new partnerships or collaboration opportunities to help our small agency grow. 
 
To be a part of Drupal 7 End of Life discussions and to help represent the Backdrop CMS community as a partner with a shared interest in meeting the needs of Drupal 7 site owners that might be struggling to find the best path forward. 
 
To reinvigorate and recharge myself. I always come back from Drupal events energized and full of ideas.
I arrived early enough on Sunday to enjoy a beautiful bicycle ride with my good friend and DrupalCon roommate, Wilbur Ince. We biked almost 20 miles along the Monogahela River on bicycles provided to us by the hotel. Recently, my primary offline hobby has been drone photography and we took some time along the way to fly the drone and take a few shots that may eventually end up on my photo blog.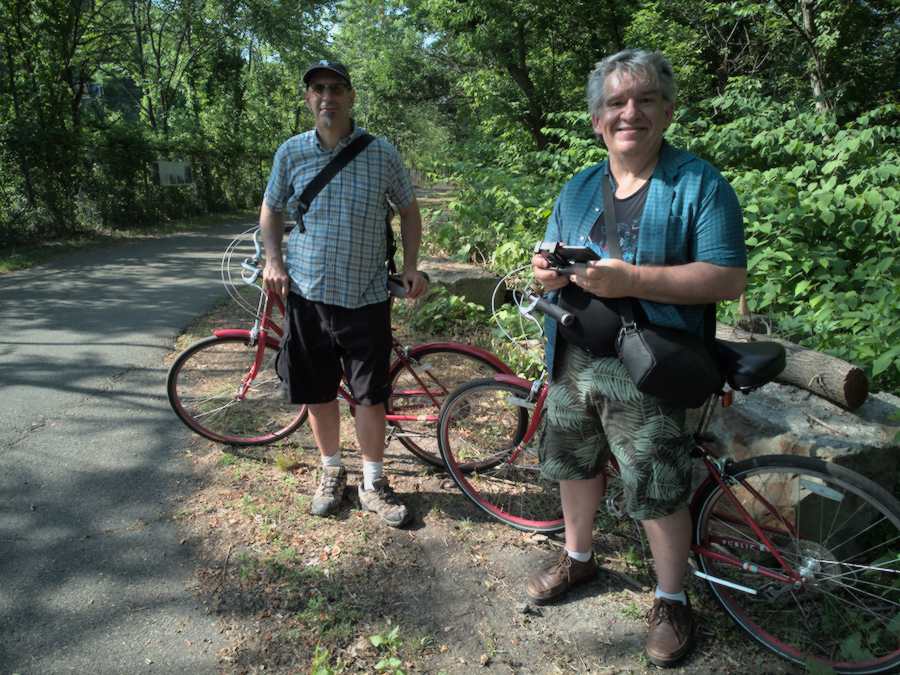 On the Sunday night pub crawl, I connected in person for the first time, with fellow Backdrop CMS enthusiast Matthias Walti who traveled all the way here from Switzerland for DrupalCon. Meeting and hanging out with Matthias was fun and an opportunity to discuss the future of Backdrop CMS with someone with lots of experience and ideas.
For the first day of the official conference, I spent much of the day greeting old friends and hanging out in a BOF (birds of a feather) room and discussing Drupal EOL and upgrade/migration tools. I'm very interested in helping Drupal 7 site owners find a new home, whether that be in modern Drupal or Backdrop CMS. Although, I do lean strongly towards Backdrop CMS for most of the small businesses and nonprofits I work with.
I finished the day by attending the session on "How to Make Big Things Happen in Drupal." It was a panel discussion with 4 people that I respect and admire in the Drupal community and the lessons shared there are easily translatable to my involvement in the Backdrop CMS community. I particularly connected with the power of the simple spreadsheet that Kristen Pol used to mobilize folks in the effort to port modules to Drupal 10. This story reflects how sometimes all it takes is someone willing to serve as a catalyst to create significant movement in a decentralized organization like Drupal or Backdrop CMS. By creating and promoting a spreadsheet, and using her visibility in the community, she was able to inspire many others to step up and help out with an important initiative. More people need to understand how easy it can be to make a major impact in an open source project, by simply putting yourself out there and helping to direct the collective energy of the community in a specific direction.
Monday night was the Lullabot party and possibly peak DrupalCon experience for me. I met and reconnected with so many people that despite my exhaustion I had a difficult time getting to sleep later that night. I met new folks and reconnected with others that I had not seen in years. It felt great to be recognized and acknowledged by so many people in this community that I have met over the years.
On Tuesday, it took until lunch for me to regain my energy and momentum. I attended some sessions and engaged in numerous hallway conversations. The session that I most connected with was another panel discussion, this time on "Empowering the Community to More Rapidly Execute Drupal's Strategic Goals." This was another opportunity to hear from friends and folks whose work I so deeply respect and admire, about a topic I'm so very passionate about, empowering and growing communities. 
At the end of the day, a small group of folks from the Backdrop CMS community met for the official "Backdrop CMS Dinner." It was an informal dinner just outside of the convention center, where we had a chance to share our experiences and talk about the future. The message I took away from the dinner was the important work that needs to be done marketing Backdrop CMS, possibly through a new Backdrop Business Association (more to come on this topic).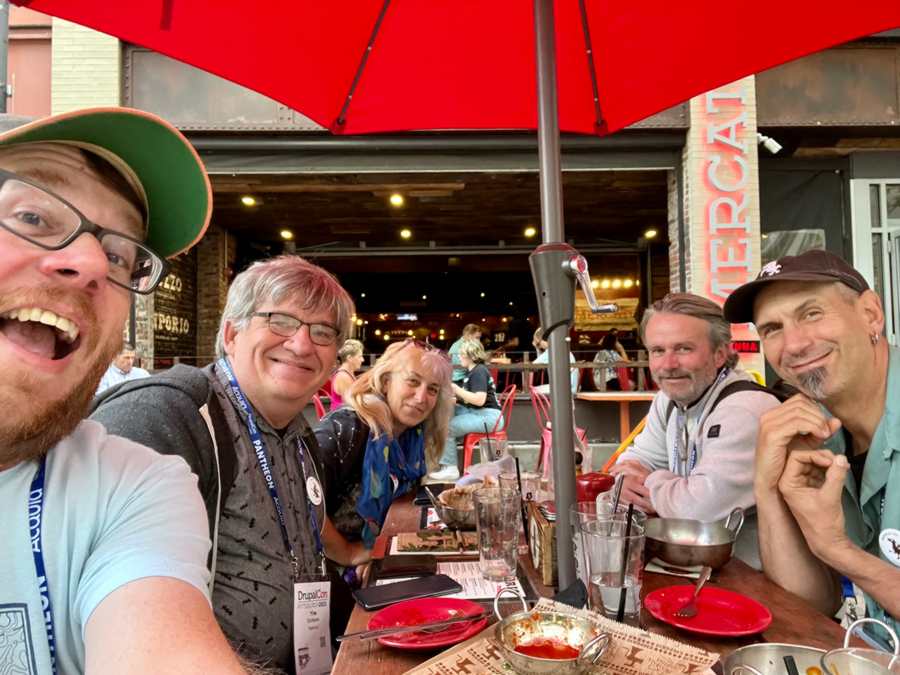 Afterwards, I attended the Civic Lounge party hosted by Civic Actions. This was a smaller event in a quiet rooftop venue, where I had the opportunity to engage in some deeper conversations with good friends in the community and introduce myself to folks I've been wanting to meet for a while. My entire DrupalCon trip may have been justified by an idea I got from Mike Gifford that I'll be pitching to one of my clients very soon. 
Wednesday was contribution day. I've served as a contribution mentor for every DrupalCon I've attended, after having been mentored and trained myself by some very impressive folks in this community. I love the energy and am always inspired by the energy in the DrupalCon sprint rooms. This year was unusually rewarding as a mentor, because the Automatic Updates and Project Browser initiatives had such excellent tasks queued up for first time contributors. I don't remember it ever being so easy to get folks into the issue queue and making meaningful contributions as it was at this years contribution sprints. 
Wednesday evening was the Pantheon party, where I made a new friend who after only a short conversation was offering some deeply needed business advice (I'm hoping to keep in touch with him in the months to come), I slid down the giant slide without hurting myself, and ran into an old friend from Burkina Faso. I've met with Seferiba Salif Soulama at three seperate Drupal events now and love to hear about the work he is doing to build a Drupal community in West Africa. If you get a chance to meet him at any future events, please ask him about his work.
The final day of DrupalCon was for summits and trainings. I attended the first few hours of the Community Summit which focused on community events and marketing Drupal the product. In the afternoon, I met with a representative of the Drupal Association to discuss opportunities for collaboration and outreach between the Drupal Association and the Backdrop CMS community around the issue of Drupal 7 migrations. We believe there is an opportunity to collaborate on, amongst other things, some online events targeted at Drupal 7 site owners to provide them with much needed information about end of life and help them find the best path forward. 
Thursday night was Drupal trivia night where I was of marginal assistance to my team. I got a few questions correct.
On Friday afternoon, I had time to visit Randyland, the Andy Warhol museum, and ride the famous incline train to the top of the hill before catching a late night flight back to Minneapolis. 
On the whole, I was very happy that I made my last minute decision to attend DrupalCon. I feel as if I made good progress on all four of the goals I took with me to Pittsburgh. I returned home with new ideas, enthusiasm, and a very long list of things to do. I'm hoping to publish more blog posts in the days to come based upon my experiences at DrupalCon and the things I will be working on in the weeks and months to come.