NOTE: On Feb 23, 2022 Drupal extended End of Life for Drupal 7 by one year. On March 11-13 the Backdrop community is meeting online at Backdrop LIVE.
My account on Drupal.org is over 11 years old. My company, Triplo, supports over a dozen Drupal 7 clients, several Drupal 8/9 sites, and about 6 Backdrop CMS sites. I consider myself a proud member of the Drupal community and look forward to continued participation in the Drupal community for many years to come. My team is currently working on two Drupal 7 to Drupal 9 upgrades.
I am also a active and enthusiastic member of the Backdrop CMS community and for the last two years have served as a member of the Backdrop CMS Project Management Committee.
I will recommend that most of my current Drupal 7 clients consider Backdrop CMS, because I think it's a better fit for their organizations and their budget. From experience, I'm confident that many of them will follow my recommendation. A few will decide to stick with Drupal - and I'll be fine with that too. A few more will move on to other platforms such as Wordpress, SquareSpace, or WIX - and given their needs I expect that they will be happy with that choice. 
Drupal 9 is a robust platform and is absolutely the right choice for some of my clients. However, as much as I do love Drupal and appreciate what the Drupal community has done for me over the years, I just don't think that Drupal 9 is the right choice for many of the small nonprofits and businesses that I work with. I believe that many Drupal 9 contributors/developers would agree. At the same time, it makes me sad to see the dip in overall Drupal usage (see chart below) as Drupal 7 sites seek new options.

Back in the early days of the Backdrop CMS fork, co-founder Nate Lampton predicted exactly this drop off in usage (see chart below), but hoped that combined Drupal and Backdrop CMS could result in a net overall increase in the size of our combined/shared communities. While the Backdrop CMS community is growing, we are not growing nearly fast enough to make up for those moving on to new options. In my opinion, this is a lost opportunity.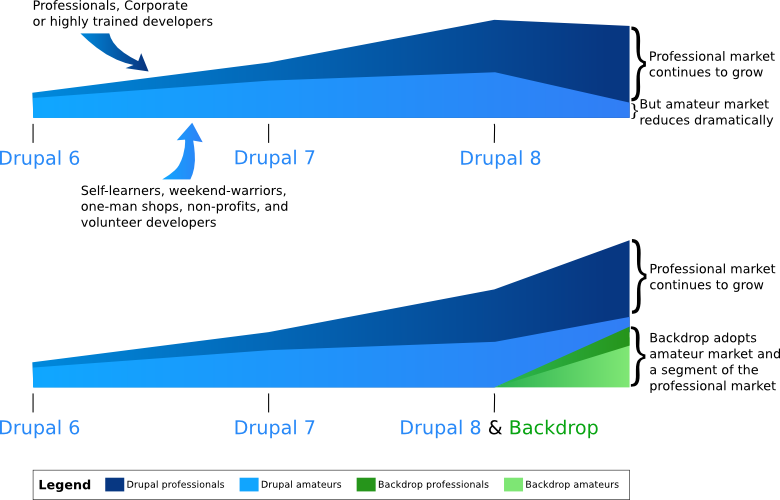 I believe that the Backdrop CMS community has done an astounding job at building upon and improving the code base of Drupal 7 to provide a tool that has the potential to meet the needs of many Drupal site owners that are currently fleeing for other products. What we have not done well, is letting those Drupal 7 site owners know that we exist. For this, we need help.
Friends of mine in the Drupal community continually remind me that they would be unaware that Backdrop exists, were it not for the fact that they follow me on Twitter. At every Backdrop CMS event, someone new shows up bursting with excitement because they have tried Drupal 8/9 and grown frustrated and then stumbled across Backdrop CMS at the point when they were ready to give up.
Personally, I am comfortable working with Drupal 9 today, although I find Backdrop CMS to be more fun. But, I know that if I were just starting out today with the skills I had 11 years ago, it's unlikely that I would overcome the initial barriers to entry with Drupal 9 and accomplish everything I was able to accomplish with Drupal 7 over the last decade. If I were just starting today, I would almost certainly end up in the world of WordPress (and maybe that would be fine).
My commitment to Backdrop CMS today, is as much for those who are just starting out and for the small organizations that can't afford to hire a team of Drupal developers as it is for myself. I believe that Backdrop CMS provides opportunities for these folks that Drupal 9 unfortunately, does not.
Friends encouraged me to use Drupal and I attended Twin Cities Drupal Camp early in my Drupal career. In many ways, I came for the community and stayed for the code. My attachment is to the community of Drupal users and developers that I've hung out with for years online and at Drupal Camps and Cons. I'm much more attached to these people and people like them, many of whom no longer find Drupal the accessible and affordable option it used to be. The audience/market for Drupal 9 has changed and I accept that.
I believe that my contributions to the Backdrop CMS community is in service to the overall community of people that I joined some 10 years ago, even if it's not directly in service to Drupal 9 the product. My connection is to the people that make up the Drupal community much more than it is to the specific code behind Drupal. Most of what I loved about Drupal the product can still be found in Backdrop and Backdrop keeps getting better with each release. I'm happy that Drupal 9 exists and I wish it a long and prosperous life, but my personal commitment is in meeting the needs of the small organizations and businesses that I believe Drupal 9 has left behind.
In a few weeks, Backdrop CMS will be hosting our 5th Backdrop LIVE online event to showcase the work we have done, share lessons learned, and plan for the future. We are certain to see a few new faces who will be thrilled that they found us, but there won't be nearly enough people to stem the flow of small businesses and organizations that are moving to WIX and Sparespace. We invite you to spend a little time with us at Backdrop LIVE to see what we have accomplished, plan for the future, and help us reach out to Drupal 7 site owners to provide them with a soft landing after Drupal 7 reaches end of life. Let's try and keep a few more of them as part of the larger community that ties many of us together. 
Please, help us spread the word about Backdrop CMS and about
Backdrop LIVE on March 11-12.
Further reading:
Discussion: